Ohio Road Map
---
The scalable Ohio map on this page shows the state's major roads and highways as well as its counties and cities, including Columbus, the state capital and most populous city.
Forest-lined Road on a Rainy Autumn Day in Southwestern Ohio
Ohio Map Navigation
To display the map in full-screen mode, click or touch the full screen button. To zoom in on the Ohio state road map, click or touch the plus (+) button; to zoom out, click or touch the minus (-) button. To scroll or pan the zoomed-in map, either (1) use the scroll bars or (2) simply swipe or drag the map in any direction. (The scrolling or panning method you use will depend on your device and browser capabilities.) At any time, you can display the entire Ohio road map in a new window or print this page, including the visible portion of the map.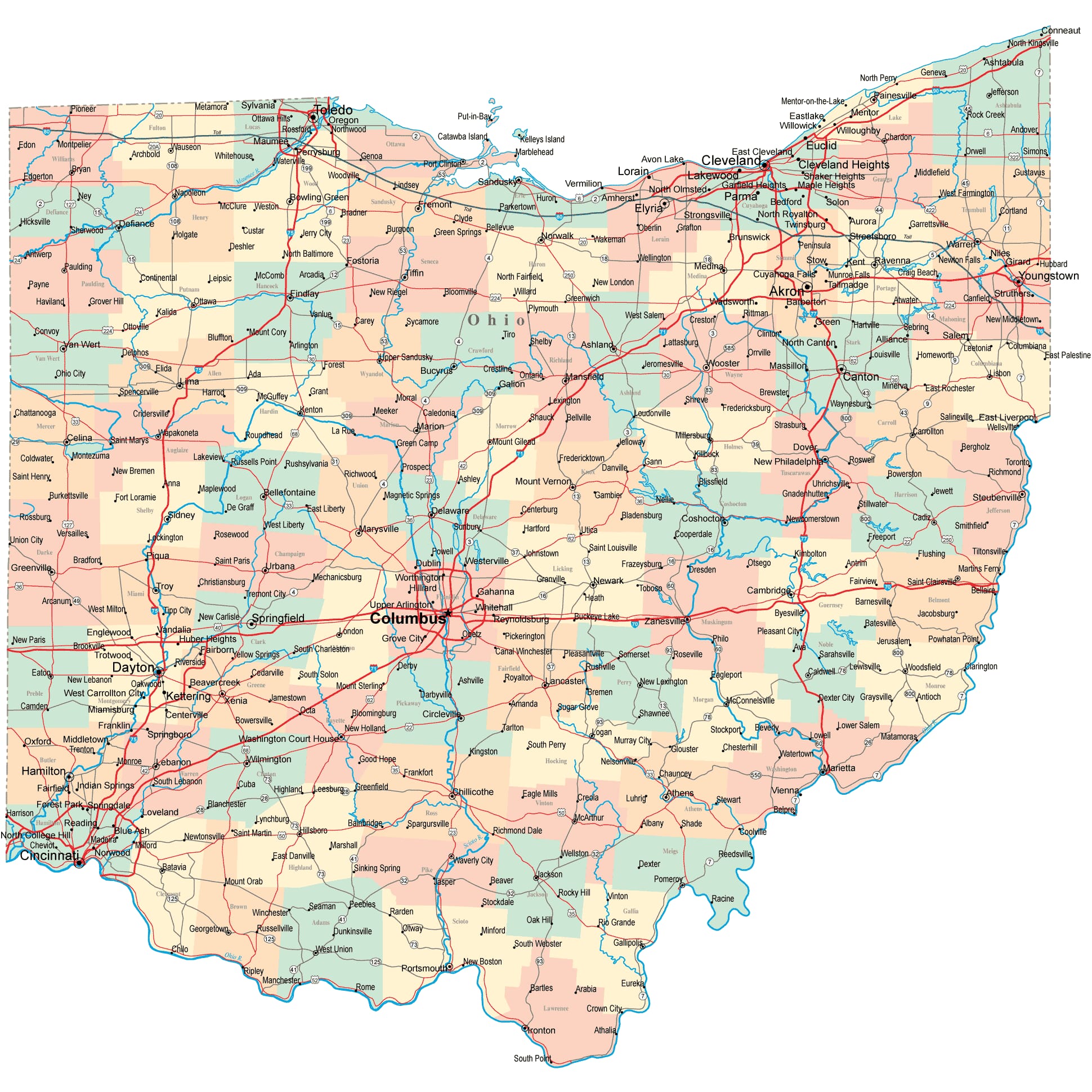 The following Map Legend and Scale of Miles apply to the road map on this page, at its largest displayed scale.
Ohio Map Legend
Ohio Map Scale Of Miles
Ohio Interstate Highways
Ohio's Interstate Highways connect its major cities and facilitate travel between Ohio and its neighbors. I-70 runs across the state from east to west and I-71 crosses the state from Cleveland in the northeast to Cincinnati in the southwest. I-75 is a north-south route in western Ohio, while I-77 is a north-south route in eastern Ohio. I-80 and I-90 traverse northern Ohio, merging as a single highway for much of their route.
Ohio's auxiliary Interstate Highways serve the state's urban areas. I-480 provides access to Cleveland's southern suburbs from I-80, while I-271 provides access to Cleveland's eastern suburbs. I-490 is a short connector highway between I-90 and I-77 in Cleveland. I-270 encircles the city of Columbus, and I-670 provides access to downtown Columbus from the city's northeastern suburbs. I-275 encircles Cincinnati, entering Indiana west of the city and crossing the Ohio River into Kentucky southeast of the city. I-277 connects I-77 and I-76 in southern Akron. I-475 connects I-75 with Toledo's western suburbs, while I-280 connects I-80 and I-75 with Toledo's eastern suburbs. I-680 connects I-80 with I-76 via Youngstown. I-675 runs southeast of Dayton, connecting I-75 with I-70.
Ohio Scenic Routes
A drive from Lexington to Wellsville highlights some of the rich countryside of the state. The 5,000-acre Mohican Memorial State Forest straddles the Clear Fork-Mohican River and is home to Big and Little Lyons Falls. Amish country can be experienced in Millersburg, Berlin, and Sugarcreek, which is the departure point for the Ohio Central Railroad. Schoenbrunn Village State Memorial marks the site of the state's first Christian settlement, founded in 1772 as a mission to the Delaware Indians. Ohio Route 32, the Appalachian Highway, meanders through southern Ohio, between Cincinnati and Belpre. More information about scenic roads in Ohio is available on this America's Byways: Ohio page.
Ohio Road Travel Resources
For more information about Ohio's roads and transportation infrastructure, visit the Ohio Department of Transportation website. For Ohio road traffic conditions, visit the Federal Highway Administration's Ohio Traffic Information page.
---
Copyright © 2005-2023 State-Maps.org. All rights reserved.
Ohio-Map.org is a State Maps reference source.

Ohio Road Map
Ohio Travel Map - OH Highway Map